Today marks Chinese New Year, and celebrations were held in the Comox Valley this weekend to ring in the Year of the Monkey.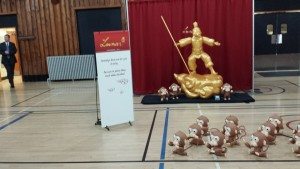 The festivities took place at Native Sons Hall and organizers welcomed a packed house for the day, with artwork on display, crafts for the kids and activities for the whole family.
Charlie Wu helped put together the event, and he says LunarFest is one of the most important traditions to the Asian community.
Multiple local politicians attended the event, including Courtenay Mayor Larry Jangula, Comox Mayor Paul Ives and local MLA Don McRae.