Members of the community gathered together this morning during a rally and vigil outside the Courtenay courthouse in support of Alison Azer and her 4 missing children.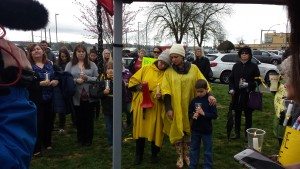 The kids have been in Kurdistan for over 7 months after being allegedly abducted by their father and the efforts continue to bring them home to Canada.
Spokesperson Maren Hills Amazzal says the Canadian and Kurdish governments are aware of the situation the kids are in, and they need to take action to get them home now.
Amazzal says Alison is doing all she can to find her kids. She says Alison stayed in Kurdistan for 3 months, and was able to find the information to locate her children.
Amazzal says more fundraisers and gatherings are planned to support Alison Azer in her fight to bring her kids back home to Canada and the Comox Valley.