COMOX, B.C- A forgotten piece of luggage shut down the Comox Valley Airport this morning.
According to Fred Bigelow, the Chief Executive Officer for the airport, the shutdown was in place "first thing this morning", after a bag was found onboard Air Canada Flight 8306. The plane had arrived at the airport last night, flying in from Vancouver.
With the discovery of the bag, airport staff began following protocols to shut down operations due to a suspicious package.
Both the RCMP and authorities at 19 Wing Comox were called to the scene. As they arrived, Bigelow indicated that the airport got a call from a woman who had left her bag on the plane.
"It turned out to be her bag, that she inadvertently left on the aircraft last night," said Bigelow.
"Normally, that kind of package would be found when the aircraft is cleaned. It wasn't, for reasons I don't know, but it doesn't really matter."
Police searched the aircraft after they arrived, locating the bag with a laptop inside. While a bomb disposal team was on-hand at airport, they were not used during the incident.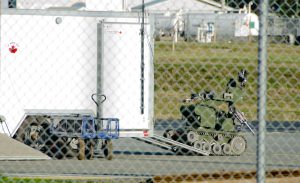 "The aircraft, typically after every flight, is groomed," said Bigelow.
"They go through, they clean it up, make sure it's ready for the next flight. Typically, a package like that would be found at that time. For reasons I can't explain, it wasn't found last night, it was found this morning."
After the situation was resolved, Bigelow said he was happy with the cooperation between the RCMP, the military personnel, and airport staff.
"All's well that ends well," said Bigelow.
While the Air Canada plane was held, passengers on that particular flight were delayed. It had been meant to fly out at 6:00 a.m., while a pair of flights from Westjet and Pacific Coastal Airlines were able to leave.
Passengers on the Air Canada flight were going through security procedures by 9:15 a.m.