COURTENAY, B.C- It appears that brewing has been forbidden at Forbidden Brewing.
In a notice posted to the company's Facebook page on Thursday afternoon, the brewery was described as "closed until further notice".
"Our landlord has changed the lock on our door and shut off the power," read the notice.
"We can only theorize about his agenda, but we can tell you that we are not the guilty party."
The notice went on to describe a legal battle between the owners of the brewery and their landlord, along with concern over spoiled beer from the lack of refrigeration.
According to Michael Vincent, the owner, operator, and CEO of the brewery, legal challenges have been an ongoing issue for the last year and a half, stemming from what the landlord saw as a breach of lease.
He stated that the lockout came in the midst of a second lawsuit, and he arrived to work yesterday to find new claims against the brewery and locked doors.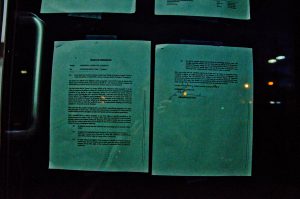 Vincent is now waiting to find out if he can get back into the brewery by next week.
"That's all we can do, wait for somebody to figure out what is going to happen next week," said Vincent.
"Looks like we've lost this weekend, lost our customers, lost our sales, and potentially lost some beer, because they've shut off the power for some unexplainable reason. We have 2,000 litres of beer fermenting right now, and that really doesn't like a change in temperature, so we're afraid that that might be going down the drain."
He also indicated that he didn't want the brewery to leave its current space.
"It's pretty hard to move a brewery," said Vincent.
"We've invested a lot of money and time into this space. We've worked on it for a year, we spent over $100,000 turning it from a blank space to what it is now. There are not a lot of good options in Courtenay. One day, we will move, but we will not be pushed out."
98.9 The Goat has reached out to the landlord for comment, and this story will be updated as more information becomes available.