CUMBERLAND, B.C- A historic marker has gone missing in the Cumberland area.
The plaque went missing from Perseverance Creek Historic Site, located in Cumberland's west end, off Comox Lake Road.
It covers the land that formerly housed the village's Chinatown, and the No.1 Japanese Town site. A number of plaques stand in the park, which detail the history of the site.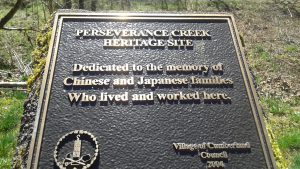 Late last week, Cumberland resident Dawn Copeman noticed that the plaque that used to be next to Jumbo's Cabin was no longer in place. Copeman is a volunteer tour guide for the Cumberland Museum, and reached out to the village office to see what had happened to the sign.
According to Copeman, the village office got back to her and indicated they had nothing to do with the missing sign.
She's since posted an appeal to local social media, seeking information about the missing marker.
On Wednesday, Chief Administrative Officer Sundance Topham said that the village is now conducting a check of all municipally owned historic plaques, and confirmed the theft of the Perseverance Creek plaque. He also said a second plaque at the Number Four Mine Site was damaged, by someone attempting to remove it.
He believed whoever is responsible for the thefts and damage was looking to sell the markers for scrap.
The incidents have been reported to the RCMP.