COURTENAY, B.C- A man and woman have suffered major injuries after a high velocity rollover on Thursday afternoon.
The crash occurred along the Old Island Highway, close to the intersection of the route and Muir Road in the Mission Hill area. A silver, four door car had spun off the road at high speeds, and ended up crashing head-on into a tree.
According to Courtenay fire chief Don Bardonnex, the car's occupants were a man and a woman, both below the age of 30. The man was believed to be driving the vehicle at the time of the crash.
Emergency crews responded to the scene shortly before 11:50 a.m., and the road was shut down while firefighters worked to extract the pair from the wrecked vehicle. The woman was extracted from the vehicle first, while it took crews a full hour to get the man out.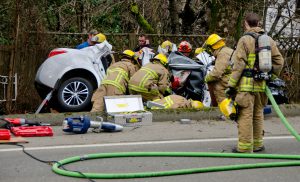 Both were taken to waiting air ambulances at the Superstore parking lot in Courtenay's east end. A prior attempt by the air ambulance service to land along the highway had to be diverted to the lot, due to the narrow airspace on the roadway.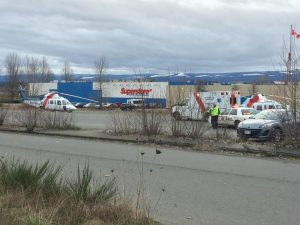 98.9 The Goat spoke with Rhuari Mcaulay at the scene of the crash. He stated that the driver of the crashed vehicle had been speeding northbound on the highway prior to the rollover.
Mcaulay indicated the driver clipped his car, causing the spin.
"I looked over to the left as he was spinning, and then dead stop right into the tree that he hit," said Mcaulay.
"Like they say, it's slow motion."
Mcaulay said that all the drivers present on the roadway at the time of the crash pulled over immediately afterwards.
"He was speeding up on the inside lane, well over 100 km per hour," said Mcaulay.
"He had been weaving up and down, all the way up, and there was two cars, and he thought he could try and get between us, tapped my right front fender and bumper, and spun across, right into the tree."
Mcaulay was later interviewed by police, giving a witness statement at the scene.
The identities of the two people extracted from the car have not been released.
Collision investigators are looking in to what took place.