CAMPBELL RIVER, B.C. – It was a packed house at the Rob Brind'Amour Arena Friday night for game two of the VIJHL finals between the Campbell River Storm and Saanich Braves.
After a hard-fought game one, which was decided in triple-overtime and saw the Braves win 5-4, the pressure was on for the Storm.
The scoring started early as the Storm used the crowd's cheers to their advantage. Darren Hards scored at the 6:46 mark, followed by a goal from Dawson Frank at 7:26.
By the end of one, Campbell River was up 2-0.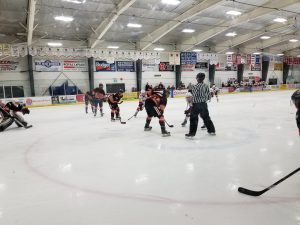 No goals were scored through the second period, but the Storm started the third and final period off fast and furious.
Brett Kinley ripped one past Braves' goalie Riley Mathieson at 2:04 to put Campbell River up 3-0.
The Braves made a last minute push, scoring two power play goals (Gavin Grewal, Elliott MacIsaac), but it was not enough and the Storm came away with the 3-2 win to tie the series at 1-1.
Up next are games three and four in Saanich. Game three is tonight at 7:45.