UPDATE as of 2:15 PM: Oyster River Fire Chief Bruce Green said the incident was a two-vehicle accident outside the Driftwood Restaurant, where one vehicle crossed the middle line of the road.
"It hit a truck that had six people in it," he said.
"Nobody was seriously injured, and the driver of the one car left the scene."
He said traffic should be back up and running as normal. Oyster River fire crews have left the scene.
CAMPBELL RIVER, B.C. – An accident has been reported on Highway 19A.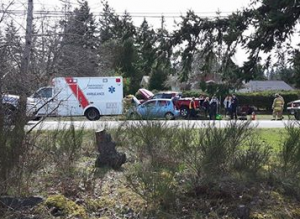 The incident occurred just outside the Driftwood Restaurant. A listener told 98.9 the Goat that fire crews, police and B.C. Ambulance service are on scene.
Traffic has been reduced to one lane as crews assess the scene.
More details will be added when they become available.