COURTENAY, B.C- An abandoned structure near the Courtenay Airpark went up in flames last night.
According to the Courtenay Fire Department, there were no occupants of the building at the time, and no injuries were reported. The structure was in the back parking lot of a former Thai restaurant, which also is abandoned.
Firefighters responded to the scene around 2:30 a.m., with two fire engines, one ladder truck, and two command vehicles. A total of 22 firefighters responded to the call.
No clear cause is known at this time, and the fire appears to have dealt major damage to the back side of the building, as well as it's interior.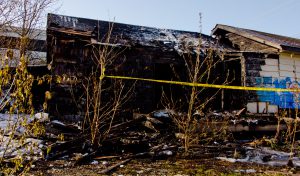 Firefighters were clear of the scene by 8:00 a.m.