CAMPBELL RIVER, B.C- Campbell River's Spirit Square was a lively and colourful place this afternoon.     
 The annual Campbell River Pride Festival, hosted by the North Island Pride Society, was on from 11-3:00 today.
Sheldon Falk, director of the NI Pride Society, said they were appreciative of all those involved.  
"This is a great opportunity for the community to come together," said Falk.  
"We're just really grateful to be able to use Spirit square and have the support of the city and our wonderful sponsors, all of the volunteers and everyone that came out to support us. We are just so grateful to be able to put on this fantastic event."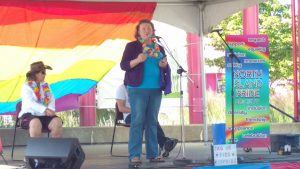 Among the speakers and performers was North Island-Powell River MP Rachel Blaney, who took to the stage to show her support for the event.  
According to Falk, it was important to have her speak at the festival.
"It really means a lot to have a representative of the government, an elected politician,  say that the government is on your side, that they support all people," he said.   
"Inclusion and acceptance is absolutely a part of Canadian democracy. It's great to hear that."
The festival continues this evening with a concert at the Tidemark theatre, for more information visit our community calendar at www.mycampbellrivernow.com