– North Island College story
COURTENAY, B.C. – North Island College Human Services graduate David Dawson has been on a journey.
Now, he wants to help others on theirs.
Dawson struggled with addiction for years, as well as uncertainty over his identity and Aboriginal heritage.
But through those early challenges, he discovered his passion of helping others.
Having completed his addictions treatment, he began taking upgrading courses at NIC – where he found a new support network of Elders, advisors and friends to help him on his way.
"I received great support from compassionate instructors and classmates," Dawson said.
"But also through the Aboriginal education team. In times of trouble, doubt, uncertainty and confusion, Elders in Residence Fernanda Paré and Evelyn Voyageur were there to lift up my spirits.
"(Aboriginal education advisor) Sarah Lawrence also made transitions between semesters smooth," Dawson added. "She was a big help in terms of helping me choose courses. She was a huge support in troubling times as well. A great friend."
After finishing upgrading courses, Dawson then earned his Human Services certificate – Educational Assistant/Community Support.
He continued his education, graduating with his Human Services diploma this year.
Dawson also racked up another major accomplishment – getting a job as at the Comox Valley Recovery Centre as a peer counsellor and night attendant.
It's an especially poignant achievement for the NIC grad, because that's the same facility where he completed his own addictions treatment.
"I've been clean and sober for three years and nine months now," he said. "I'm working at a treatment centre that saved my life and I feel it's come full-circle."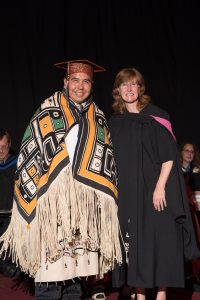 While the transition back to school wasn't easy, the support he found at NIC helped him make it through.
"This college is so freely giving, supporting, kind, caring and provides comfort and connection with one another," said Dawson. "The atmosphere here is so diverse, warm, inviting and uplifting. It helped me on my journey and I know it helped others as well."
It's that same support Dawson wants to provide to the youth he works with.
Dawson said more work needs to be done to promote greater understanding between Indigenous and non-Indigenous people. That's particularly important for Aboriginal youth, who he says need to learn to "walk in two worlds."
"But that can go both ways," said Dawson, a member of the Kwakwaka'wakw Nation who was born and raised in K'ómoks First Nation territory.
"We are all on this beautiful earth together and we can all learn from one another with grace, dignity, love and respect in our hearts. We can all be a little bit more generous with our gifts."