COURTENAY, B.C. – A wheelchair doesn't hold Brian George back from anything.
On Friday evening, August 10th, George, known as the "Wheelchair Ninja" rolled his chair backwards up Courtenay's lengthy Ryan Road hill.
George grew up in the Comox Valley, but has spent the past few years in Halifax with his fiancée. He said it was very special to return to the Valley for this challenge.
"I've always wanted to go up Ryan Road," he said.
"I come here every summer, and I didn't know there was a sidewalk. The last day on the way to the airport (in 2017) I saw the sidewalk. I knew I was coming back this summer and I wanted to do it (go up the hill)."
In Halifax, George started what he calls the Halifax Odyssey Tour, where he's rolled up a bunch of different hills in Halifax to support accessibility awareness.
He said the hope, at least focusing on the Ryan Road hill, is to improve accessibility.
"It's simply not wide enough," he said, speaking about the hill's sidewalk.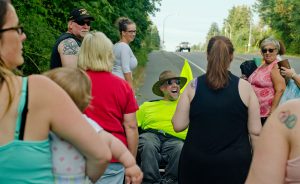 George is currently in the running for the Best Activist award as part of the Best of Halifax competition.
He was supported and joined in his latest endeavor by Comox Mayor Paul Ives.
"For somebody in a wheelchair to go up that (hill), it takes a lot of courage, determination and of course, he had a lot of support, so we had a nice chat on the way up and it was great to find out more about what he's doing," Ives said.
He supported George's comments that the sidewalk needs to be widened.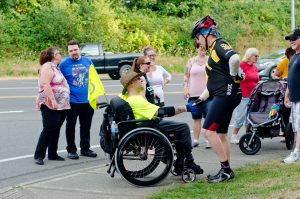 "The traffic up here has increased a lot, so hopefully the province and the City (of Courtenay) can work towards some solutions on that," Ives said.
You can vote for George in his bid to be named Best Activist through the Best of Halifax website.
-With files from James Wood