COMOX, B.C- The Sea Cadets are leaving the Comox Valley.
On Thursday, the final graduation parade was held at HMCS Quadra, which was home to close to a thousand young cadets over the summer. The camp hosted courses in a variety of subjects, with some taking as long as six weeks to complete.
Cadets from the camp were also present in the community throughout their stay, often in uniform.
The final grad was held in the afternoon, with Rear-Admiral Bob Auchterlonie as Reviewing Officer. He currently serves as the commander of Maritime Forces Pacific/Joint Task Force Pacific.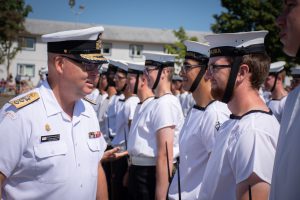 Prior to the graduation, MyComoxValleyNow.com spoke with 18 year old Chief Petty Officer First Class Elliot Mathew Fredrick Dunbar, who held the most senior cadet rank at Quadra over the summer.
He said holding the top spot at the camp for the last seven weeks was a "wonderful experience".
"Being put in this position has allowed me to look at the program from a different perspective, because I'm looking at it from a much higher level than usual," said Dunbar.
"It has allowed me to see that one of the goals of the cadet program, to build better youth, better community members, we are actually doing that."
Dunbar said the summer at Quadra allowed him to apply leadership skills he had been taught throughout his time in Sea Cadets, and mentioned that getting a job was "a million times easier" with Cadets on his resume.
"When I was 16, I applied at three different places with basically nothing on my resume, except that I was in Grade 10 and I've done cadets, and I got accepted to every single place I applied to, because the Cadet program looks really good on a resume," said Dunbar.
"It has allowed me to look at every situation a little bit differently, I think, then my friends do, because of the different experiences I've had. The amount of different situations I've had to deal with, it allows me to approach everything with a certain understanding."
He gained his Pleasure Craft Operator's Card through Sea Cadets, and said the program doesn't push anyone towards military service, though it did aim to instil an interest.
'Me personally, I love the water, I love the structure of the military, the discipline, the deportment, that's what drives me, so I'm absolutely going to join the Navy," said Dunbar.
"I'm in the middle of applying right now. I age out in September, I hope to just hop right over and carry on."
He had spent six of seven summers at Quadra, and though he was sad to leave, he said he was satisfied with his time.
"Leaving will be sad. I'll be upset, because the program has offered me so much, but I will be satisfied, because I believe I've made the most amount of impact that I possibly could on these cadets, and that's what I want to do here," said Dunbar.
Asked about what he would tell others about the program, Dunbar said he would talk to anyone for hours.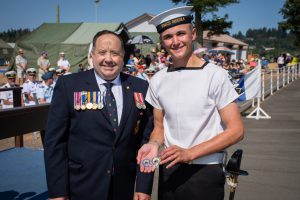 "I love this program," said Dunbar.
"The opportunities that are open to you when you join, all you have to do is show up. My favourite part about the program is that it's all walks of life. You have cadets from all walks of life joining this program, and we put them in the same uniform, and we put them towards the same goal. It's amazing to see these cadets who don't have these opportunities be able to get put in, and we pay them to come do training. It's just awesome. I will recommend this program endlessly."
As for what he plans to do with his staff pay, Dunbar said he had to pay off some bills.
"I was living on my own last year, so phone bill, car insurance, and saving it," he said.
"Also, a lot of pizza. I bought a lot of pizza this summer. I think it's kind of necessary, almost."