COMOX VALLEY, B.C. – For Judith Conway, the pain of losing her son will never go away.
Judith's son Matthew died from a fentanyl overdose on Nov. 5, 2017.
A crossfit trainer and gym manager, Matthew was living in Port Coquitlam at the time of his overdose.
"He was actually still alive when they found him," Judith said. "But that weekend there was 10 overdose deaths alone in Port Coquitlam and they couldn't get to him fast enough."
Matthew was 30 and left behind his mom, dad, and brother.
"It's been a very difficult journey for us," Judith said. "Matthew was a great guy."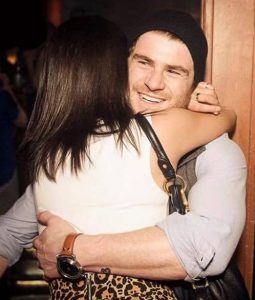 To memorialize her son and others, Judith attached 100 flags to her fence. The flags are adorned with the names of people who died from drug overdoses in the Comox Valley and across B.C.
"In fact, we couldn't even make enough flags for them because I just didn't have enough room," Judith said.
She also collected tiny pieces of yarn on a string, representing all the overdose deaths in Canada in 2017, "just to show the magnitude of how many people are affected."
"I strung them across my fence, zig-zag, because it was too long for 100 feet," Judith told MyComoxValleyNow.com from Victoria, where she is attending an overdose awareness event and candlelight vigil.
"I'm helping in Victoria as this is the primary place that our children group in," Judith said.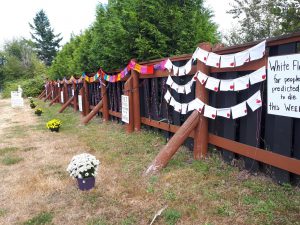 While many picture overdoses happening in alleyways to people living hardscrabble lives, this is just not the case, Judith stressed.
"The thing is, (Matthew's) does fit the profile (of a typical overdose situation)," Judith said. "Over 88 percent of people who die (of overdose), die inside, primarily in their own homes, alone. It's not like the media portrays. Less than 12 percent of people die on the streets."
These are myths that need to be dispelled, Judith said.
"This is not a homeless problem, this is a problem with your next door neighbour, this is a problem with my son, this is a problem with many people, and it affects people everywhere," Judith said.
Judith said overdose is the "No. 1 cause of (death) of men under (the age of) 39."
She and her family miss Matthew every day and when she put together the string, it was a very emotional experience for her.
"I knew that every piece of yarn is somebody who died, which is 3,987 people in Canada," Judith said.
August 31 is International Overdose Awareness Day and Judith is hoping the Comox Valley will find a way to illuminate a local landmark to recognize the day.
"BC Place contacted me and they are going to light up the dome, the Vancouver Harbour, and the Vancouver Convention Centre purple for Overdose Awareness Day," Judith said.
Born and raised in Comox Valley, Judith is driven to bring awareness to people in her hometown and beyond.
"I believe that it takes a village to bring up a child but it also take a village to save a child," Judith said. "So we need to as a community, get together and start talking about this, and break the silence, the shame, and the stigma that surrounds this problem."