This has been a record-setting fire season, as more than 1.25 million hectares have been scorched throughout BC, costing the province an estimated $360 million dollars.
BC's Chief Fire Information Officer Kevin Skrepnek says the spread of wildfire is slowing down thanks to cooler weather.
He adds that the Coastal Fire Centre has seen 99 fires this season and says the largest fire in the zone, now a complex, is responsible for a lot of the burned area.
"We've had 278 fires in that area since April 1," says Skrepnek. "Hectares burned in the Coastal Fire Centre right now are estimated at a little over 160,000 hectares. The vast majority of those hectares are from the large fires that are burning in Tweedsmuir Park."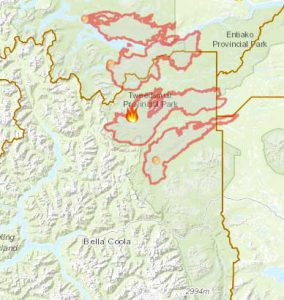 Skrepnek says more than 4,500 firefighting personnel are battling blazes throughout BC, including more than 50 firefighters from Washington State, some of whom are fighting fires in the Coastal Fire Centre.
"Those firefighters are from the Washington State Department of Natural Resources," says Skrepnek. "For the most part they're going to be working on fires relatively close to the border in the Coastal and Kamloops Fire Centres."
So far this fire season, 512 fires have resulted in the BC Wildfire Service responded to 2,015 fires.