COURTENAY, B.C- A crash in southwest Courtenay sent a boat crashing through a window on Wednesday night.
According to Constable Landers with the Comox Valley RCMP, a vehicle had been travelling south down Fitzgerald Avenue, past the intersection of the road with 21st Street, when it struck a power pole on the west side of the roadway.
Witnesses believed the incident took place shortly after 11:30 p.m.
The car then struck a boat that was parked in the yard of a nearby home, sending the vessel into the house which had four people home at the time.
According to resident Courtney Houston, the boat entered the house through her child's bedroom window.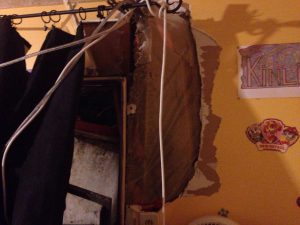 There were no injuries reported from the scene.
The young male driver was briefly detained by officers, but released. The exact cause of the crash and circumstances of the accident are still being investigated.
Alcohol and speed are believed to be a factor.