COURTENAY, B.C. – A Comox Valley mother is warning parents to teach their kids street smarts after a scary incident involving her daughter.
Karla Ullman said that on Saturday, November 10th, she had dropped her daughter off at the roundabout on Willemar Avenue to ride her bike with her friends.
Ullman said that after she dropped her 11 year old off, an unknown vehicle approached her child.
"When she got into the roundabout, according to her, there was a brand new black panel van driving down the wrong side of the road coming towards her," she said.
"When he got towards her, I can't remember if she said the window was up or the window was down … but he had (offered) her some candy. She flipped him the bird and took off on her bike. He got really mad and continued speeding off on Cumberland Road towards downtown (Courtenay)."
Ullman said the incident has been reported to the Comox Valley RCMP.
"(The officer) said there's no way she's lying about that. There was definitely something going on there," Ullman added.
Last month, an unknown male exposed himself to students near Lake Trail Middle School, close to the Willemar roundabout.
RELATED: RCMP still seeking man in Lake Trail School exposure incident
"I asked the officer if there is a possibility that this is the same person that's been hanging around Lake Trail School, maybe he painted his vehicle. He didn't really give me too much information on that, but I did get the impression that there is something going on here in town," Ullman said.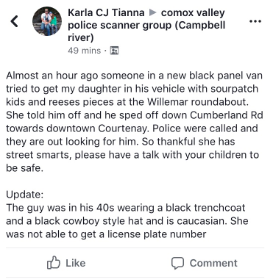 In the wake of the incident, Ullman had a message to parents.
"Talk to your kids and just say, it doesn't matter if they know you or know a family member, you do not, under any circumstances, approach a vehicle for candy even if they're asking you for directions, do not (go) near that vehicle, you run to the nearest house," she said.
"It's scary, and it doesn't take long for someone just to grab you and throw you in a van if they want to take you. Everyone needs to be aware and come together as a community and just keep an eye out for things that are going on here, and phone the police. They can only do so much if people don't phone in."
Ullman said she's also going to be enforcing the 'buddy system' with her daughter.
She described the unknown male as being in his 40s, Caucasian, wearing a black trench coat and a black cowboy-style hat.
A request for comment has been sent to the Comox Valley RCMP, with further information pending.