COMOX, B.C- A workshop fire at a Comox storage facility didn't cause any injuries today.
According to Comox fire chief Gord Schreiner, a small workshop at Cozy Mini Storage along Ryan Road caught fire this morning. The cause of the fire is unknown at this time, though he suspected it could have been electrical equipment.
https://youtu.be/pm2EUBTXzAM
Lisa Loewen, the owner of Simply Amish which is located next to the storage business, told reporters that she saw smoke and called 911, after checking inside the structure to make sure no one was inside.
Three fire trucks and around 15 firefighters responded to the call, establishing a large water supply. No one was in the shop, though there were concerns about nearby vehicles.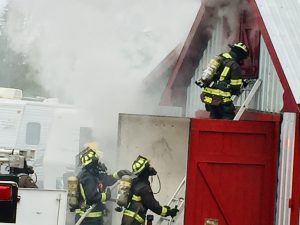 One of the vehicles close to the shop was able to be moved, and one had to be hosed. Schreiner had been close to the area when the call came in, around 10:20 a.m., though he was in his civilian vehicle.
The shop is believed to have sustained heavy damage in the fire, mostly in the interior.
-with files from Troy Landreville