COURTENAY, B.C. – A downtown store is getting a new look.
Courtenay is home to New Look Vision Group's New Look Eyewear store in Western Canada.
 Vogue Optical division at 349 B 5th St., is rebranding as New Look Eyewear, joining more than 80 stores in Ontario and Quebec.
According to the company, the retailer "will gain a new competitive advantage from the strength of New Look Eyewear's network, including a wider selection of high-quality, on trend products and leading-edge customer service."
The Courtenay store unveiled the New Look Eyewear banner on Monday, March 4.
New Look Vision Group said the new store will "retain key benefits" offered to Vogue Optical customers, including the popular 'second pair free' policy and credits towards professional services and eye exams with local optometrists.
The current in-store managerial and staffing team will remain in place.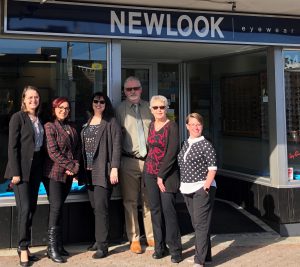 Claudia Rojas, the operating manager with New Look West, said this store opening will make an important contribution to the Courtenay community.
"We look forward to building a new relationship with the people of Courtenay as part of our progressive growth strategy in Western Canada," she said.
"This is a store that has been deeply rooted as a strong and proud member of the Courtenay community."
She added that "we are very excited expand the New Look Eyewear brand in the West, especially in a community where we have built strong relationships over the years."
"This is very important to us and for this reason we are committed to maintain and continue to enhance our high standards of quality products and new services. In fact, we will be expanding our selection of branded and private label products with the latest fashions and trends, while also adding new services such as eye examinations by a doctor of optometry."