COURTENAY, B.C. – Courtenay's vulnerable will now have safe and secure housing.
A housing project at 8th Street and Menzies officially opened this morning, after getting up and running in recent weeks.
The three-storey modular apartment building, named "The Junction", is located at 988 8th St, on land that was offered to BC Housing by the City of Courtenay.
The complex holds 46 self-contained units, with each having a kitchenette and washroom. There are two units designed for people with physical challenges.
The ground floor has a commercial grade kitchen, common dining area and laundry facilities.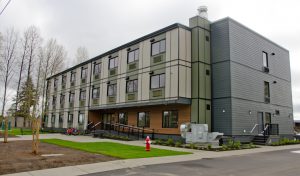 John Howard Society of North Island will operate the building and provide residents with 24/7 support services, which will include meal programs, life and employment skills training, health and wellness support services, as well as opportunities for volunteer work.
"This supportive housing facility will offer more than just shelter for its residents. It's a path forward to a better life through access to life skills, health care and coaching, led by people who care about them," City of Courtenay mayor Bob Wells said, in a news release.
"The City of Courtenay is incredibly grateful to the province and BC Housing for making this project a reality and paving the way to a brighter future for these members of our community."
Wells spoke during the opening ceremony, getting emotional towards the end of his speech when he mentioned the positive impact that the complex will have on its residents.
Residents will be charged $375 monthly, which is the social assistance shelter allowance the province provides to people experiencing homelessness.
In order to be admitted to the complex, Valley residents will need to have been chronically homeless for at least three years out of the last five years, and using shelters or the streets for the last six months. There is no upper age limit, but the minimum age residents can be is 19.
Anyone with a dog or cat is allowed to bring them in to the complex, because the goal of the facility is to have "low barriers" for housing. However, the acquisition of more pets will be discouraged.
The provincial government invested $7.5 million in capital and construction costs and will provide an annual operating subsidy for the project. The housing is permanent.
There is a waiting list for housing at the building, and it was mentioned during the opening ceremony it could be filled twice with local demand.
Offers to assist with the application process and needs assessments were also made to homeless residents who had been previously camped at the site, and across the Valley.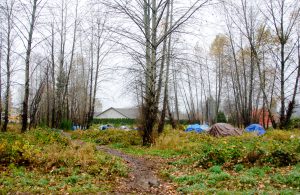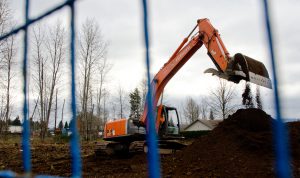 According to Wendy Richardson, the Executive Director of the John Howard Society on northern Vancouver Island, there are 20 residents already in the 46-unit facility.
"Their experience, it brings tears to my eyes," said Richardson.
"One of the first women to move in, said "I can get a good sleep tonight, without having to keep one eye open", and that was a real good reminder to me of what she was dealing with, on the streets."
Asked about whether or not residents would be allowed to have guests, Richardson said that they would, but it would need to be worked out with staff in advance. Residents cannot come and go from the facility without being buzzed in or out.
She also touched on the question of illicit substance use in the complex.
"When people are in their own homes, they are not policed about how they live," said Richardson.
"Our neighbours may choose to have wine with dinner, and they don't expect people to ask them, whether they are or not. Our focus is on behavior. If using substances, whether it's wine with dinner or something else, creates problematic behavior, that we deal with. We're talking about being angry, or aggressive, or dealing drugs."
Richardson stated that anything illegal would be dealt with.
"What we will not do is police people in their own homes," said Richardson.
"So, if somebody is using some substance, in their own home, and it's not affecting how they behave everywhere else, we probably won't even know. And we're not going to worry about it. There will be no drug dealing here, and there will be no illegal activities here. We will jump on those immediately."
She indicated that her referral to "substances" was an umbrella term for all drug use, but also stated that the complex is non-smoking, so residents would have to go outside to the designated smoking area.
Richardson also said there will be no term limit on how long someone could stay at the facility. According to her, residents could be very vulnerable, with the housing complex providing what they need to survive and thrive.
"If they stay here, that will be fine," said Richardson.
There is no specific aim to the complex beyond providing what is best for each resident. Richardson said that could mean moving on eventually, while others might not. It is based on what each resident needs.
The complex will be full after each resident is screened and admitted.
-with files from Twila Amato