COMOX, B.C. – The Comox Island Iron Races are coming to the harbour this weekend.
Hosted by the Comox Valley Canoe Racing Club, the event features two days of racing for all paddle disciplines and abilities this Saturday and Sunday.
Saturday's events include  six-person outrigger canoes (OC6) Iron distance races and a brand new long course SUP race.
Sunday will include the traditional small boat race –  one-two-person outrigger canoes (OC1-2), surfski, and a separate SUP technical race right off the Pier at the Comox Marina Park.
There will also be a fun race for kids.
This is Race No. 3 in the CORA Cup points series.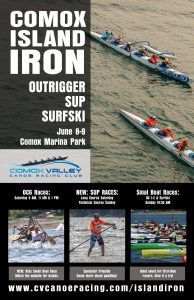 For a full event schedule, click here .
You can check out the event's Facebook page here.
Club president Carl Tessmann said roughly 30 to 35 clubs and 200 racers are coming to Comox from all over B.C. to compete.
This event is one of three happening at Comox Marina this weekend as part of the Comox Dock Days, which kicks off the B.C. Seafood Festival.