An eagle is lucky to be alive, thanks to the efforts of local boaters.
Comox resident John Berry and his mom were on a fishing trip about three kilometres off the coast of Comox when they came upon an eagle clinging to a tree branch.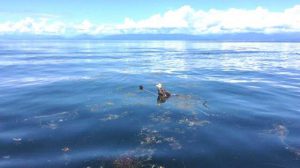 It appeared in distress, so Berry attempted to rescue it and with the help of another boater.
With some guidance from the MARS Wildlife Rescue Centre, they managed to put a blanket and jacket over the eagle.
The first attempt to lift the eagle out of the water didn't work as the eagle fell off the branch and back into the water.
Another attempt allowed them to grab the eagle, and put him in the zodiac.
Since it was too difficult to transfer it into the power boat, they left the eagle, covered in a wet blanket and jacket, in the zodiac.
The owner of the other boat stayed with the eagle while Berry towed them to the Comox Marina.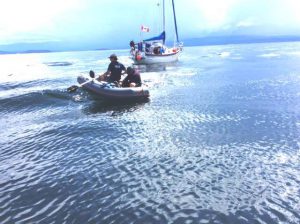 That's where Brenna Lerch from MARS was waiting to collect the eagle for treatment.
MARS' manager of rehabilitation Gylaine Andersen said the eagle is doing pretty well under the circumstances.
"He's got a really good body condition and he's eating well," she said. "But he does have lead poisoning and his lead levels are really high. So we're quite surprised but we do test all eagles that come in just to make sure because a lot of them come in with lead poisoning."
Andersen explained that lead poisoning happens to eagles when they eat carcasses that have lead in them and fish that have lead fishing sinkers still in them.
She noted that the centre is always pretty guarded when it comes to lead poisoning.
"He's not showing a lot of the symptoms of lead poisoning so that's one of the reasons we are surprised," she said. "His lead levels are fairly high so we've got him on chelation therapy with calcium EDTA to treat the lead in his system or help him get the lead out of his system. But it's always hard to say with these cases what the end result is going to be."