The victim of a break-and-enter is still hopeful some of her items will be returned.
The crime was reported on July 22nd at a home on the 8000-block of Island Highway.
The suspect(s) entered the residence on a five-acre parcel of land and stole more than 40 pieces of jewellery along with a laptop, watches, and an iPad.  
Many of the items stolen have deep sentimental value to Aniko Nelson.
"Wedding bands, engagement rings, promise rings, all the jewelry that I've had since I was a kid," Nelson told the MyComoxValleyNow.com newsroom. "All my daughter's new jewelry… it's all gone."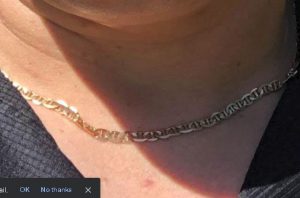 RCMP Constable Monika Terragni said the break and enter happened during the day, so it is quite possible that someone in the area saw the suspect(s).
Nelson said it seemed like the suspects really wanted to get into her house.
"They tried multiple different ways of getting in prior to finding the way that they managed to get in," she said. 
It wasn't obvious right off the bat that someone had broken into the home, Nelson said. 
"They went in a way that wasn't visible from the front of the house," she said. "I didn't notice anything awry until I noticed a few cupboards open that I would not leave open. Once I hit my bedroom it was pretty clear."
Nelson said she is still holding out hope she'll get some of her items back.
"We're still checking online to see if anything comes up," she said. 
"We've covered the pawnshops (in) Campbell River, Courtenay, Nanaimo, we've been sending out photos of a couple of the more unique pieces. There's just so much stuff that it's hard to describe everything. But realistically, if I could just get my key, most recent pieces back between my husband and I think I'll be relatively satisfied with that."
Nelson said she feels invaded, adding that her one- and- five-year-old children are still shaken up.
"The worst part is my kids, my kids were there and my kids saw it," she said. "They're terrified. They're still scared." 
Anyone with information, or anyone who was in the area and saw something believed to be suspicious, is asked to call the Comox Valley RCMP and refer to file number 2019-11295.  
If you wish to remain anonymous, contact Comox Valley Crime Stoppers at 1-800-222-TIPS (8477) or online at comoxvalleycrimestoppers.bc.ca.