There's a bear with a sweet tooth roaming around Campbell River.
It raided Sharla Marr's outdoor freezer twice over the weekend.
Marr said after the bear got into the freezer and devoured some of her homemade treats early Friday morning, it came back looking for more.
"We emptied everything out because we knew that he probably would come back because clearly, he didn't finish everything," Marr said. "There were still some treats left so we took everything out and thawed it and cleaned it out and I purposely wiped it down so I would know if he came back. We even left it open."
Judging from the mud  if left behind, the bear returned, sometime between 11:00pm Saturday night and Sunday morning.
"You could see that he had kind of scrounged around in there even though there was nothing there," Marr said.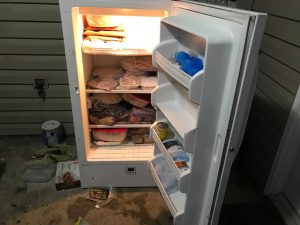 The first time around, Marr and her husband heard some noises in their carport late at night.
The next morning, they had a mess to clean up.
The bear bypassed the things you'd think it would eat, such as fish and berries.
"He took them out but didn't eat them, just left them on the carport. And then (he) opened the containers… there's some peanut brittle and some other treats that he just decided to eat instead. And then he pooped on the doorstep."
The bear has good taste.
Marr is a Red Seal baker.
"After thinking about it, and talking to my husband, he (the bear) only ate the things that were cooked. He ate the cooked treats and then he ate some taquitos, too, which my husband was really sad about, which are pre-cooked, they just need to be warmed up in the oven."
Marr figures that it was a smaller bear. It had to squeeze past bins and recycling, and the family car, to get to the freezer.
"There are only four or five feet between him and the freezer, so it's not a very large space," she said.