UPDATE: Police say Madison Brett and Aiden Watson have been found.
Campbell River RCMP are seeking the public's help to find two missing 17-year-olds. Madison Brett and Aiden Watson were last heard from at around 4:30 pm yesterday (Dec. 4th).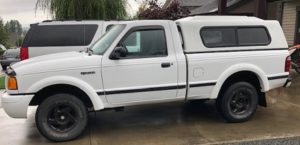 The pair were believed to be in the McIvor Lake area at the time. Police say they may have ventured into logging areas with Watson's truck and got stuck, or the truck may have developed some mechanical problems.
The truck is described as a white 2002 Ford Ranger without a back canopy. It has silver rims and BC licence plate PT 6800.
Madison is described as caucasian, standing at around 5 ft 4. She has hazel eyes and long brown hair.
Aiden is also caucasian, standing at around 6 ft 1, with brown hair and brown eyes. He was last seen wearing a red jacket and brown shorts.
If you have any information regarding the whereabouts of Madison Brett or Aiden Watson, or see the truck, reach out to the Campbell River RCMP right away. Call (250) 286-6221.