Nearly a dozen organizations in the Comox Valley are getting a financial boost to help them weather the pandemic storm.
The Comox Valley Community Foundation is distributing $134,170 in the form of grants to 11 organizations in the valley.
The 2021 COVID-19 Emergency Response Grants will help those most impacted by the pandemic through promoting food security,addressing homelessness, and boosting resources available for children and youth.
Of the funds, $35,000 is going to the LUSH Valley Food Action Society's Good Food Box program.
Another $25,000 is going to the Comox Valley Coalition to End Homelessness's Connect program for pandemic supports.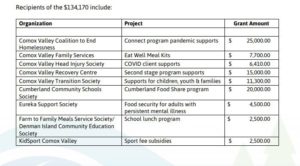 "The need in our community remains great and our agency partners continue to work tirelessly to provide programs and services to the most vulnerable members of our community," said foundation president, Matt Beckett. "The pandemic has exacerbated the fundamental inequalities that exist in our community, and we are very thankful for the Comox Valley Regional District's continued support in addressing these issues."
The Comox Valley Regional District contributed $100,000 from its Provincial Safe Restart Funds.
The CVCF funded the balance from the Robert & Florence Filberg Fund for child welfare.

Since 1996, with the support of local families, businesses and organizations, the CVCF has awarded more than $4.2 million to over 170 local non-profits and 230 students, towards the purpose of enriching life in our community forever.
For more about the foundation, click here or call 250-338-8444.