An iconic cabin on Hornby Island is no more.
Overlooking the ocean and located at the bottom of a 100-metre hill, it was destroyed by fire on Tuesday night.
Hornby Island Fire Rescue chief Doug Chinnery said the cabin was difficult to access.
"The closest road access is 100 metres up," Chinnery said. "So we had to pull hose lines down this steep slope, basically a goat path."
Chinnery said by the time fire crews got there, the cabin was fully involved: "The fire had spread to some of the trees, it's been pretty dry here on Hornby, we haven't had any significant rain since probably back in February, and there are some really big fur trees surrounding the cabin and the fire had spread into the branches of the fir (trees) and and down onto the beach, as well."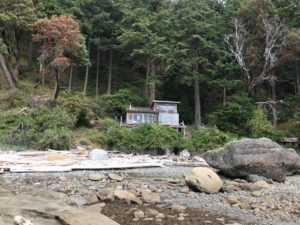 Once crews knocked down the fire on the cabin, which Chinnery said was "a complete loss," they turned their attention to the surrounding area to keep the fire from spreading.
"We were able to achieve that with the help of a local contractor, Alan Fletcher, whose crew is building the new school on Hornby," Chinnery said. "He's got a landing craft which he very graciously ran for us to ferry some gear and some personnel onto the scene. He also has a little pump on his boat, so we were able to use that pump to get some water onto the beach while our crews were still using our fire hoses to put out the fire at the cabin."
Chinnery said it was a historic cabin and an island landmark.
"It's a pretty iconic little place if you've ever taken a boat around Hornby Island or paddled a kayak or walked along the shoreline, you would have looked up and seen this beautiful little cabin that's right on the edge of the water," he added.
"People would often look at that and wonder about living there because it was way out of the way."
He added that they've lost a little piece of Hornby history.
"Several Hornby characters have lived there and 'care-taked' there over the years, it's a beautiful little spot, and it feels to a lot of people to be kind of an end of an era. It's really sad to see these old, historic buildings go up."
It's believed that the fire started from the chimney.
The cabin's resident, his dog, and two cats got out safely.