The Town of Comox is losing a councillor.
Pat McKenna told Vista Radio this morning that he has officially resigned his position with Town Council.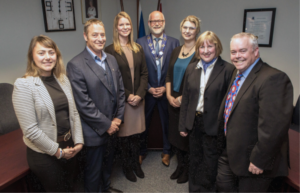 McKenna is moving back to his hometown of Antigonish, Nova Scotia so he can be closer to family.
His end-of-term will be at the end of August.
"There will be a by-election at some point, and I assume it will be in the fall," McKenna said.
On top of his duties as town councillor, McKenna was also the Habitat For Humanity Vancouver Island North's executive director.
While his official date of resignation is July 8th, McKenna is staying on with Habitat VIN until a successor is found.
Under McKenna's six years of leadership, Habitat VIN rapidly increased its families served through affordable homeownership.
Out of the 39 homes built since the group was founded in 2004, 25 were completed during his tenure.