Be kind.
It's a simple but powerful message that's now on display above the AIDS Vancouver Island building on 6th Street in Courtenay.
The artist behind the mural is recent Mark R. Isfeld Secondary graduate Annika Funk, who did it as her Grade 12 capstone project.
Funk said she was inspired by a similar style of mural that she spotted on Instagram.
"They had different words than what I used and I thought, what would be a good message to put up around Courtenay and I thought 'be kind' is a great one, always," she said. "Especially after having gone through the global pandemic. I think a reminder of kindness is great for everyone, to be kind to others and to be kind to yourself."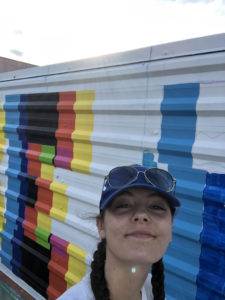 She started the mural on July 2nd and wrapped up on the 8th.
The mural was months in the making. Funk said she started planning at the end of October 2020.
"It's a Grade 12 graduation project because the B.C. curriculum has a new project that is mandatory for us graduates," she explained. 
"It's called the Capstone project and it's a student-led project of a minimum of 40 hours. It can be basically anything you want. You just have to show personal growth in whatever aspect or skills that you plan to use." 
She spent many of those hours networking with the City of Courtenay, mural artists, local businesses, paint stores and support agencies.
She ran into a few obstacles along the way. She had hoped to put the mural above the Connect Warming Centre on Cliffe Avenue.
"I thought that would really add to my message of kindness," Funk said. "They offer services and resources for homeless people. So I put my proposal to the city because the city owns that building. They discussed it and said they would like to work with me to make this happen pretty quickly because I was hoping to get that done before I graduated."
Unfortunately, the building tested for lead paint so she had to find a new building.
"That was my major obstacle," Funk said. "But then the muralist I was working with ended up having a contact at the AIDS Vancouver Island building and I thought that would still go along with my theme, works perfectly, and that's where it ended up being painted."
She had help from Josh Klassen, a local muralist from Courtenay.
Funk hopes it stays up for at least a year.
"After that, if it ends up being covered up, it was here and I had a great time painting it."