Local kids will soon have new places to play, as the City of Courtenay gears up to install two new playgrounds at either end of town.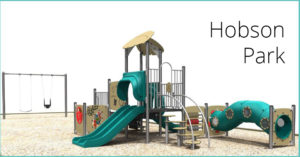 New 'bright and colourful' playgrounds are to be installed at Maple Park and Hobson Park, both with equipment suited toward kids between the ages of two and five.
"The playgrounds will provide more options for our community's younger kids," the City says.
Maple Park — a .64-acre green space in west Courtenay — has an existing playground, plus picnic and basketball areas. According to the City, the old swings will be disassembled starting tomorrow, July 29th. Installation of the new playground then starts this coming Tuesday, taking about a week to complete.
Meanwhile, over at Hobson Park — a 3.29-acre green space and forested area in east Courtenay — new playground installation is expected to start in September. Hobson Park also has existing playground, picnic, and basketball areas.
Coming soon 😊 Two new bright and colourful playgrounds will be installed at Maple Park and Hobson Park. Both playgrounds will have equipment that is best suited to children 2 – 5 years old. Info: https://t.co/8auANodeEW pic.twitter.com/5SRN5oP6He

— City of Courtenay (@CityofCourtenay) July 26, 2021