Fish and chips with a side of community support: A local restaurant owner says a sense of community abounds in Campbell River, as she thanks other locals restaurants for stepping up in a time of need.
Michelle Segal of Dockside Fish and Chips says the B.C. Day long weekend was probably the busiest weekend for the restaurant so far this year, if not last year as well.
And for Segal, the heavy traffic came as a shock.
"We're located right underneath the ferry, so when the ferry gets backed up we can just get slammed," she says. "I don't know where everyone was coming from, but on Saturday we were just hit so hard."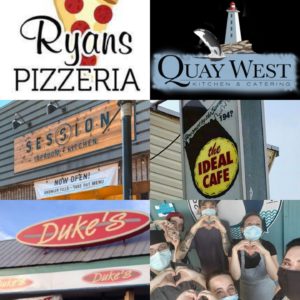 As the day unfolded and customers started flocking in, Segal says Dockside eventually ran out of to-go boxes. With the restaurant open to-go only, that posed a big problem.
"We were in a bind. I didn't know if we were going to see the same numbers the next day," she tells My Campbell River Now.
Mid-panic, Segal thought of other local restaurants. She started calling around, explaining her situation, putting out a plea for help.
And the staff at other restaurants listened, lending a helping hand that actually kept things at Dockside afloat over the weekend, Segal explains.
Numerous restaurants in town — Ryan's Pizzeria, Quay West Restaurant, Session Taphouse, Dukes Restaurant, and Ideal Cafe — handed over the extra boxes in stock.
"It was absolutely lovely and it wasn't awkward at all. People said they've been there before. It was just wonderful, a wonderful community moment," Segal says.
"Usually, this industry can be so cutthroat, or it's projected that way. I think we're really going to succeed through all of [COVID] as a community if we lift each other up. If anybody makes a call to me needing anything, if we can, I'm there."
Now more than ever, with the COVID-19 pandemic ongoing, Segal thinks it's 'incredibly important' that people come together and support local businesses.
"I just also feel for the local community, because at this point, there's a lot of pressure and a lot on their shoulders too," she adds. "I think these moments, like the one that happened to us on the weekend, are also just equally important – that we're there for each other. We're only going to get out of it as a community."