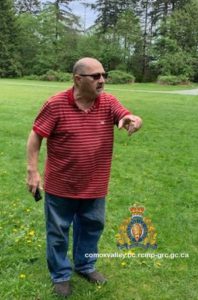 If you push someone to the ground and start kicking them, expect consequences.
This from local police, as they search for a man who allegedly pushed another man to the ground and starting kicking him at a Courtenay park.
Last Tuesday just before 2:00 pm (Aug. 31st), the Comox Valley RCMP says officers were notified of the assault at Pinegrove Park off Lerwick Rd.
And while the victim told police that the suspect was unknown to him, they do say he's known to frequent the park, often flying a drone in the area.
At the time of the assault, he was wearing sunglasses, blue jeans, and a short-sleeved red and white horizontal striped golf shirt.
Anyone who witnessed the assault, or who may have information regarding the suspect's identity is asked to call the Comox Valley RCMP at (250) 338-1321 and refer to file number 2021-14770.
Tipsters who would rather remain anonymous can get in touch with Comox Valley Crime Stoppers by phone at 1-800-222-TIPS (8477) or via their website.