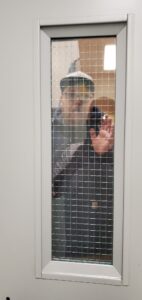 Hi! I'm Gareth. You may remember me from the evening show, and Bachelors Behind Bars! I came to the island in early 2020 and haven't been back to the mainland in years. It's safe to say I love the Comox Valley. Incredible views. Awesome eats. Always something to do. And of course the people (well most of them). I've been to the East Coast and West Coast, and I can tell you we have the Best Coast hands down!
I was born and raised in the nation's capital, but I swear I have redeeming qualities. Like I'm really good at making Babka. And I've been told I have a voice made for radio… and a face for it too (Thanks Mom!). I started as writer for all the ads you LOVE 😉 but Kent kept putting a mic in front of me. Eventually I picked up the hint and here we are! I'm your evening host from Monday to Friday, but if you listen close to some of the ads you might hear my voice… and it won't always be what you expect!
Favourite quote from one of my favourite movies – Dogma: "He said mankind got it all wrong by taking a good idea and building a belief structure on it!"
Tune into Evenings with Gareth on 98.9 Jet FM Monday to Friday.