The leader of the New Democratic Party's (NDP) federal branch made a stop in the Cowichan Valley this morning. It was another in a series of stops made on Vancouver Island in the last few days.
Jagmeet Singh, along with Cowichan-Malahat-Langford Member of Parliament, Alistair MacGregor, stopped at the Cowichan Community Centre earlier today to host a "healthcare round table" with members of the local healthcare community.
In his media availability afterward, Singh touched upon the issues facing the healthcare system on Vancouver Island and on a national level – particularly in reference to the supply of staff. He used the word crisis to describe the current situation.
"When we're dealing with a house on fire, we can't wait to put the fire out. We need to immediately see action and that's what we're up against now," says Singh. "What we've heard from the healthcare workers that we've spoken to is that our healthcare system is getting to the verge of collapse. It's getting very serious."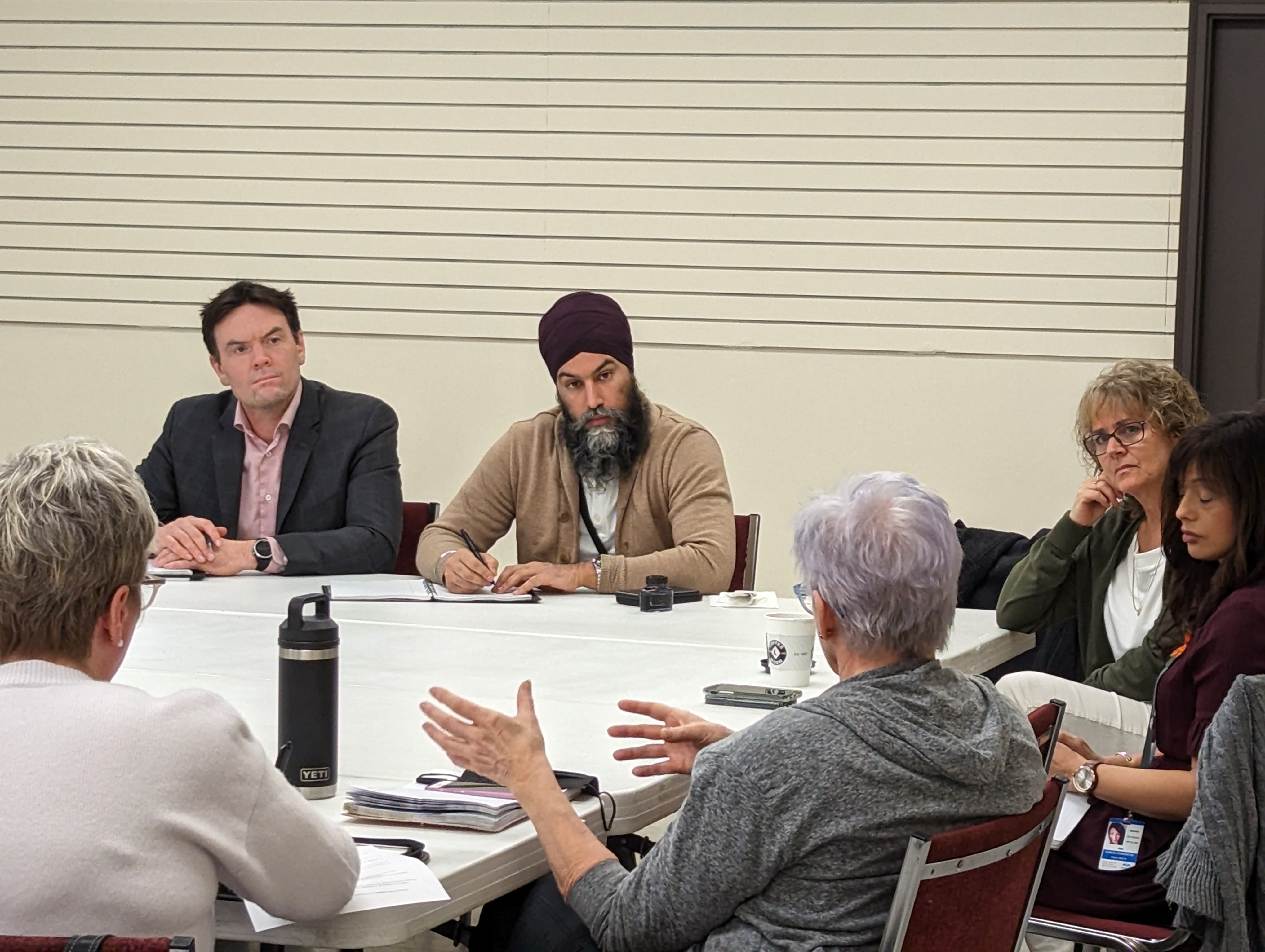 One of the issues he touched on is the impact of the lack of affordable housing on the staffing supply. Noting that the lack of housing may deter some healthcare professionals from moving to a community.
"People end up feeling the impact of not having a family doctor, that might have moved here if they had housing," says Singh. "It shows that we need to deal with housing in general."
He suggested accelerating housing opportunities for some crisis workers like doctors and nurses to help fill voids where needed.
"We should have started 40 years ago in developing a plan to ensure that we have enough healthcare workers to meet the needs of this population," says Singh. "We need to move really quickly to find out ways to incentivize young people to get into healthcare work."
He mentioned finding remedies to many of the deterrents that people face when considering a career in healthcare. That includes things like debt forgiveness to ensure new professionals aren't graduating with high amounts of debt and improving working conditions so that workers don't burn out as easily.
"We need to recruit. We need to retain and we need to train. And we need to make it easier for young people to get into healthcare work and see that there is a promising future," says Singh. "A noble career that doesn't actually end up resulting in massive debt or a lot of pressure."
Singh is the leader of the fourth largest party in the House of Commons, which is a unique position that he says creates a fine line between criticism and working together with other parties.
"When we raise concerns we do it with the goal of trying to fix problems," says Singh. "We want to walk this path where we raise concerns and we fight for you and we also deliver things and get things done."
Singh reaffirmed his party's belief in the public health care system and their backing to ensure that they can provide solutions.
"A parent shouldn't have to worry if their kid gets sick whether or not there is a place to go," says Singh. "We want to make sure that they get the care that they need."