Members of communities across the country banded together this weekend to honour the memory of a Canadian hero.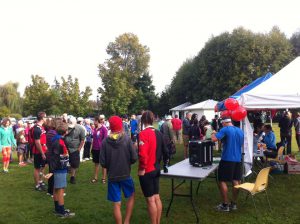 Sunday marked the annual Terry Fox Run.
Spokesperson of the Comox Valley edition of the event, Dawn Stevens, says it's very important to honour Fox's legacy and his Marathon of Hope. This year was the 36th annual edition of the Terry Fox Run.
Stevens says Fox is a major part of Canadian history and culture.
The event raises funds for cancer research. Fox passed away on June 28th 1981 at the age of 22, succumbing to cancer. Over $5,300 was raised at the Comox Valley event for the Terry Fox Foundation.