COMOX VALLEY, B.C.- A lack of a boil water notice in the Comox Valley following this weekend's heavy rainfall raised some questions and concerns from system users.
The Comox Valley Regional District (CVRD) said there's a simple answer as to why a notice was avoided: the ultraviolet treatment system that has been installed at the district's chlorination station.
"The UV treatment is something that was going to be implemented in the future with our water treatment project that's going to be completed in 2021," said Bob Wells, the Chair of the CVRD's Water Committee.
"Staff at the RD and Island Health were able to come to an agreement on an interim solution, since it's still going to be a few years before the completed filtration project's going to be done."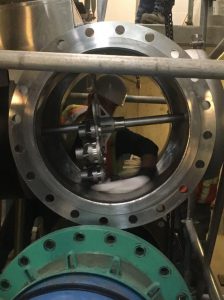 The UV system will reduce boil water advisories, which have burdened Comox Valley water users for the past few years, by 80 per cent.
Wells noted that there is a lot of excitement in the air at the Regional District.
"This was an idea that we were not allowed to implement years ago, and when it came down to the fact that we were going to be looking at years before we got the funding for our larger project, when it looked like there wasn't a solution, we were really thankful that Island Health was able to work with Regional District staff to say 'okay, this is an option, we can try this out to see if it works'," he said.
"Not only are we avoiding the boil water, but we are providing the safest possible water that we can to the residents of the Comox Valley."
The UV system was expected to be installed next month, but Wells said it was a pleasant surprise to have it set up early.
"We are going to be using the UV right up until the implementation of the new water filtration plant," Wells said.
"This UV reactor was actually already going to be ordered for the new treatment project, so we just ordered it early, and when we get to the point that we're going to bring the new facility online, these (UV) reactors are going to get moved up to the new treatment facility."
Wells explained that in short, the ultraviolet system serves as a "germicidal light", which kills bacteria, viruses and other items that can harm those who drink the water.
"The fact that it's able to inactivate those things just basically by shining a light on it, you can almost think of it like how the sun bleaches something, it's able to go in and inactivate those things and make the water as safe as possible," he said.
For more details on the Comox Valley RD's water treatment project, visit this link.