PYEONGCHANG, SOUTH KOREA – Comox's Cassie Sharpe is bringing home gold, and her proud parents are with her in South Korea tonight.
Sharpe bested the competition in today's freestyle skiing halfpipe event in Pyeongchang, after going through the qualifying rounds on Sunday.
In her second of three rounds during the medal final on Monday, she posted a score of 95.80, good enough to win gold.
France's Marie Martinod placed second, while America's Brita Sigourney finished in third.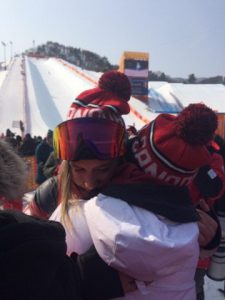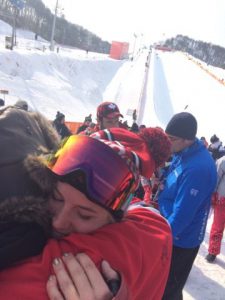 98.9 the Goat caught up with Sharpe's father Don, who ran the business operations at Mount Washington up until 2017.
"My wife and I are on cloud nine, it's just amazing, we can't believe we're here," said Sharpe.
"We've got family with us, and watching Cassie win gold medal was just unbelievable. I can't even put it into words"
Sharpe said there were around four to five thousand people watching in the final event, with Cassie laying down a great first run.
"She blew it away on her second run," said Sharpe.
"By the time she got to her third run, she had already won it, so that was pretty awesome. We're pretty excited to be here."
As for how they've felt about the support from the Comox Valley, Sharpe said he couldn't even say how thankful the family was.
"It's been pretty amazing, getting the messages and texts back from the Valley and the people that are living there and the Mount Washington people and the Mount Washington family and all of our friends that are there," said Sharpe.
"It's just been so inspiring and so awesome. We really appreciate everything, all the support that's been given."
While they didn't have any immediate plans for celebration, Sharpe was enthusiastic at the thought of a parade in Comox for his daughter, which had been mentioned on local social media.
"That would be amazing," said Sharpe.
"I know there's a big group of people watching, so appreciative of the support we've got from the valley."
Courtenay's Spencer O'Brien rounds out the Island athletes competing in South Korea. She'll be in the snowboard big air finals on Thursday.