CUMBERLAND, B.C.- Cumberland Recreation has added a new piece of equipment, thanks to a donation from the Comox Valley Community Foundation.
The $5,200 donation was used to purchase an inflatable obstacle course that community members can rent for birthday parties.
The donation also covered costs for a moving truck to transport the course around. Rentals can be made by contacting Cumberland Recreation.
All proceeds from rentals, which cost $50, will support a free youth drop-in gym program, and other low cost youth recreation programs.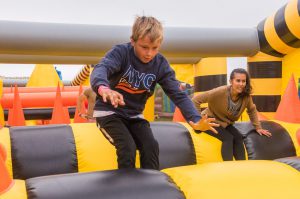 Youth drop-ins run on Wednesdays from 3 to 5 p.m. for kids ages 10 to 15. The program runs until the end of June.
Cumberland Rec's Genevieve Burdett said they hope to team up with other programs going forward for teen nights, giving youth the chance to socialize and get some physical activity.
The inflatable obstacle course will also be used for other events in town, like Pop up in the Park, ValleyDads Night Out and Valley Families.
The Comox Valley Community Foundation has previously supported Cumberland Rec's free Parent and Tot Gym program.
With the support of the Foundation, Cumberland Rec has been able to expand its services and continue to provide affordable programs and services to community members.