COURTENAY, B.C- Jagmeet Singh has finished off his tour of Vancouver Island's north end.
Singh, who serves as the leader of the federal New Democrats, has been on a nation-wide tour aimed at getting to know Canadians better. He started his off his Vancouver Island leg in Campbell River on Monday morning.
While in Campbell River, he took a tour of the John Howard Society's Foundry, a program that offers a variety of services for people between the ages of 12 and 24, and spoke at a Campbell River & District Chamber of Commerce luncheon.
Singh was joined by North Island-Powell River MP Rachel Blaney, who he called an "incredible advocate" and "strong champion" for the community.
During the Campbell River visit, Singh discussed what issues the NDP wants to address heading into next year's federal election. The focus was on income inequality and protecting the environment.
Another big issue is affordable housing, which he says Prime Minister Justin Trudeau's Liberals aren't doing enough to fix.
Singh said the NDP would build affordable units right away, support co-operative housing models and take steps to address speculation in the real estate market.
He also spoke about the opioid crisis while in Campbell River, saying an NDP government would declare the opioid problem a public health emergency and redirect resources away from prosecution and imprisonment to harm reduction and rehabilitation.
After his Campbell River event, Singh headed south to Courtenay with Blaney and Courtenay-Alberni MP Gord Johns, to hold a "JagMeet and Greet" at the Florence Filberg Centre in the city's downtown. The seats provided for the event were close to overflowing once the event began around 7:20 p.m.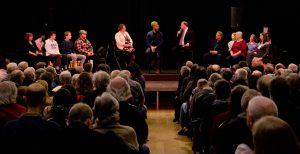 While he touched on many of the same themes as his Campbell River event, Singh also spoke of the need to support Canadian veterans after an emotional plea from a local man. When it came to local economic issues, he spoke on the value of sustainable fishing to the community after being asked to create a critic position for the West Coast fishery.
In response to the question, Singh indicated that he believed there had been mistakes made when it came to the management of fisheries.
"We used to favour and support local community fishing," said Singh, speaking at the event.
"Local community fishing is sustainable, it is not mass-scale, and when you see the concentration of (fishing) licenses in less and less hands, you see massive fishing that results in overfishing, and depletion of stocks. It's an issue that I've seen coast to coast."
He believed there was too much of a focus on profit.
"You see that folks don't care about sustainable, they don't care about what happens next year or the year after, they just want to get as much profit as they can right now, and that results in horrible results," said Singh.
"When you put profit above everything, in any field, you see devastating impacts."
He wanted to see protection of species at the base of the marine food chain, as well as additional efforts to protect and support local fisheries. "Science-based" decision making would be a help, according to Singh.
"We can make the right decisions now, and make sure that we protect fishing as a sustainable sector, not just as an economic driver but also because of our commitment to protecting the environment," said Singh.
"I believe in it, we need to do that, I'm committed to it, I'm open to hearing more and more concerns around this, but this I something we need to be serious about."
Singh carried on to Port Alberni after the end of his Courtenay event at 9 p.m.
-with files from Patrick Grapes