COMOX, B.C. – Graffiti now covers the walls of the old Mack Laing House.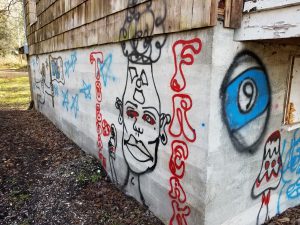 The Comox property, known as Shakesides, was gifted to the town from Laing after his passing, according to Comox Mayor, Paul Ives.
"The Shakesides property is subject to an application to court right now to determine what use can be made of it. There has been graffiti over the last number of months on the structure itself. Town staff will be addressing that as they can get to it," Ives said.
He noted that the court application involves plans for modifications to the Mack Laing Trust Fund, in order to remove the property from the land. The plan is to build a viewing platform at the site, which overlooks the water in Comox.
"There is, of course, the hope that at some point, the court will make a decision, possibly as early as this week as to what can be done with the property. We're trying to safeguard it and make sure it's not being vandalized."
Ives said he plans to bring the graffiti issue up with council and staff this week, to ensure that they can deal with it as soon as possible.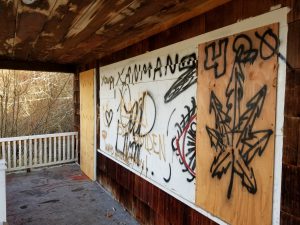 "We're hopeful that the court will see our request as being reasonable in terms of what use can be made for those funds," he said.
"If not, we will seek further direction from the court as to what can be made use of those funds. The structure itself is part of an original land grant that was done about 45 years ago, and that will be a determinant as we determine what can be made use of the actual Trust Fund. So the two trusts are separate but we want to make sure we follow the direction of the court wherever possible."
Ives said with the nicer weather, people are becoming more aware of the issues at Shakesides. He said they don't necessarily do patrols during the winter, and have more parks crews in the area during the summer months.
He noted that Shakesides isn't the only place in town that's been affected by the graffiti issue.
"From time to time, we've had problems with graffiti, up at some of our playing fields, Aspen and Highland, and we want to make sure we deal with that right away," he said.
"It seems to be somewhat seasonal."
Ives said he's hopeful they can appear before the courts this week.