COURTENAY, B.C. – Students from across School District 71 gathered today at Glacier View Secondary to discuss what reconciliation means to them and how we can achieve it.
It was all a part of a special event that featured speeches from K'omoks First Nation's Rob Everson, his brother Jessie and Valeen Jules.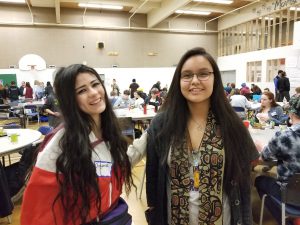 Jules is an advocate who has toured the country sharing her stories and thoughts on reconciliation.
"I think it means reclaiming our identity, our culture, our lands and waters with the support of our allies, and of the communities who claim space on our lands" she said.
"Land and water is at the route of it because, that's where I personally found my purpose and my value as a human being on this earth, so land recognition and land reclamation and taking action every day to do that."
She said she was very happy to see such a strong turnout at the school. Attendee Chaylene Rosner said to her, reconciliation means "coming together and talking about what's happened to our culture".
"Someone in the room said forgiving is not forgetting and I think that's really important."
During the event, organizers went around the room and had students voice their opinion on what reconciliation is.
Everson educated students on the importance of communicating and sharing ideas to create change.
He noted that there are two types of reconciliation.
"There's a reconciliation that Canada has to do with our First Nations and Indigenous people," he said.
"There's also a reconciliation by which our First Nations and Indigenous people have to take upon themselves to reconnect themselves with their culture and their language."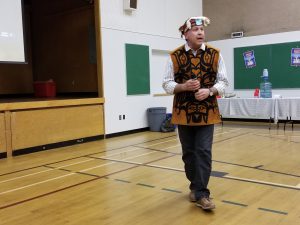 He said First Nations and Indigenous peoples, especially youths, had to keep the conversation going and connect with other First Nations.
"We make sure that we are making those connections, because it's not just your First Nation that you're from, but it's the neighbouring First Nations, it's the other nations from across Canada because we all have one thing in common – we are all trying to get to reconciliation."
Students took part in different activities and were treated to a traditional First Nations lunch during the event.