COURTENAY, B.C. – Residents in the Puntledge area of Courtenay noticed some water pooling around Woods Avenue and 2nd Street, as well as Arden Road, this morning.
This was due to two water main breaks.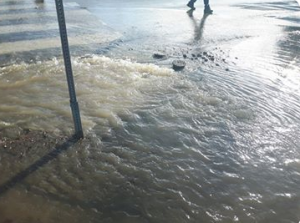 A resident told 98.9 the Goat that City of Courtenay and fire crews were called, and water damage was reported to homes on Woods Avenue.
Other listeners called in to say that their water had been shut off, including those living on Cumberland Road, and Arden.
A resident on Cumberland Road informed 98.9 the Goat that water had been turned back on at around 10:30 a.m.
Crews from the City of Courtenay will be on scene throughout the afternoon repairing the burst mains.