COMOX, BC – A residence suffered significant damage due to a fire in Comox this morning.
The call came in at around 10:30 a.m., according to Comox Fire Captain Robert Stevens.
He said when crews arrived to the Greenwood Crescent scene, flames were showing through the side of the building and the roof.
He noted that there were not any individuals in the building when they arrived.
"Apparently there were people in the building that called it in, but to my understanding, they were out of the building by the time we arrived," he told 98.9 the Goat on scene, noting they had received multiple calls in relation to the incident.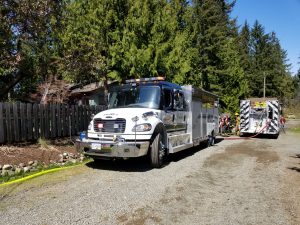 Stevens said they knocked down the fire pretty quickly, but had to stay on scene to get to additional flames found within the walls of the structure.
"The flames got into the walls and the roof section," he said.
Crews were cleared from the scene at around 2:10 p.m.
Speaking to 98.9 the Goat when crews arrived back at the fire hall, Stevens said no injuries were reported.
"There is an unaccounted for cat, but the residents said they were pretty confident it got out," he said. Stevens could not confirm the number of residents affected.
The cause of the fire has yet to be determined, and an investigation is underway.