COURTENAY, B.C. – Courtenay Fire crews attended the Maple Pool Campground after a tent trailer caught fire on Saturday afternoon.
The department responded to the site along Headquarters Road in Courtenay shortly before 3:30 p.m.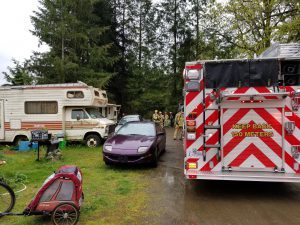 Upon arrival, crews found a tent trailer that was ablaze.
Courtenay fire chief Don Bardonnex told 98.9 the Goat on scene that the trailer was unoccupied, and no injuries were reported.
BC Ambulance and the Comox Valley RCMP responded, but left the area shortly after their arrival.
Bardonnex said the cause of the fire is not known, but the trailer was filled with various items in storage.