Update: As of Monday afternoon, the event has raised $83,543.09.
COURTENAY, B.C. – The community banded together on Saturday and into Sunday morning for the 2018 Relay for Life in the Comox Valley.
Relay for Life is an annual event that raises funds for the Canadian Cancer Society, assisting in research in the ongoing fight against cancer.
"I'd say over 500 people (turned up), so it was a really excellent turnout. It seemed a little bit bigger than last year," said coordinator Cherie Kamenz.
"It's wonderful to have so many people here (at the Comox Valley Sports Centre track) to support the survivors."
The event began at 6:00 p.m. on Saturday, and wrapped up at 6:00 a.m. on Sunday.
As of Sunday morning, $80,633 was raised.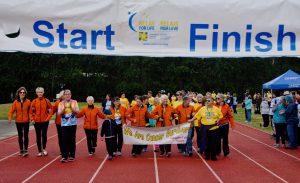 The 2018 fundraiser featured live music, concessions, the survivor's victory lap and the luminary ceremony, to remember those who have been affected by cancer.
The event also saw a trio of Comox Valley residents get their head shaved as part of their fundraising efforts.
"My friends just told me to go for it, and it was for a good cause," said Kyle Papineau.
Papineau's team, Blondie and the 25 Brats from Cumberland Community School, raised $1700.
"I wouldn't do this any other way. I'm glad I did it," he said.
Shannon Colthorpe represented the 98.9 Goat FM team.
"That summed up, felt really bizarre but really good and liberating," she said.
Colthorpe took part in the head shave for a friend who was recently diagnosed with cancer. "I said, if you're going bald, I'll go (bald) with you," she explained.
She told MyComoxValleyNow.com that she raised $645 for the cause.
"I wish more people would shave their heads. I just think it's really good for bringing attention to cancer and the fact that you can shave your head for someone. They can't not have cancer, but you can not have hair," she said.
Jase Ellis, who works with Courtenay's Little Sparks-Creative Early Learning Centre, also shaved his head. The Little Sparks team raised over $2000.
Donations can still be made at through the official Relay for Life website.
-With files from James Wood