CAMPBELL RIVER – Campbell River's skyline got a little more colourful today, as the LGBTQ pride flag was raised once again in Spirit Square.
Mayor Andy Adams and members of the North Island Pride Society met in the square this morning to put the rainbow flag up in preparation for the city's Pride Festival next weekend.   
This is the third consecutive year that Campbell River has had the flag on display, and Sheldon Faulk, member of the NI Pride Society, said he has seen a lot of change over that period.
"At the start there was very much a mentality of 'don't rock the boat', but I think every year more and more people get on board," Faulk said.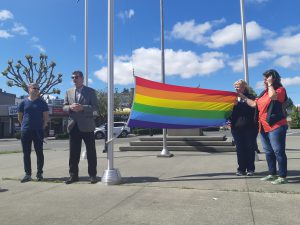 Sandra Weames, also of the Pride Society, said it means a lot to have the mayor present.
"I think it's important, particularly with what's been going on with SOGI 123, for the city and the mayor to be here," said Weames.  
"Being here says that the flag is important and the LGBTQ community is important."
RELATED: ANTI-SOGI PROTESTER VISITS SCHOOLS
According to Mayor Andy Adams himself, the city supports it's LGBTQ community.
"This (Spirit Square) is the gathering place, so what better place to have a flag put that represents inclusivity within the community," he said.
The Pride Festival kicks off on Saturday, June 23rd in Spirit Square. For more information visit our community calender at: https://www.mycampbellrivernow.com/event/campbell-river-pride-festival/