CUMBERLAND, B.C- A Cumberland woman wants to know where the rocks are coming from.
Over the last week, Calia Gregory's home has been pelted by rocks, resulting in severe damage to her family's property.
It all started on Sunday, June 17th. Gregory said between then and this past Friday, her family has only had two quiet nights with no signs of vandalism.
"Right now, I have two intact windows and the rest are broken. We lost one window in my car and three in my partners. My children, two of them, have been showered by glass when they've been sleeping, so they're pretty scared," she said.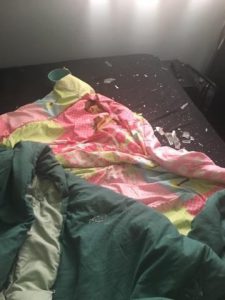 Gregory said the situation is so bad that her three children are not sleeping at their Royston Road home anymore, and staying at her parents' home.
"They're just absolutely terrified," she said.
She said her family does not know who the culprit or culprits are, but noted that this is something that has happened before.
"About a year ago, my neighbours were having the same issue," she said.
According to the Comox Valley Record, the home of seniors Glen and Loretta Waldref was the target of the "rock attacks" in May of 2017.
The Record's article indicated that the Comox Valley RCMP responded at the time.
Gregory told MyComoxValleyNow.com since the attacks started on her home this year, she has made a report to the local police detachment.
"They were out just about every night last week," she said.
The culprits have yet to be found.
She told MyComoxValleyNow.com that on the nights where they've heard rocks hitting their home, her and her partner have also heard whistling.
"We think there's a couple of guys, and that's how they're communicating back and forth," she said.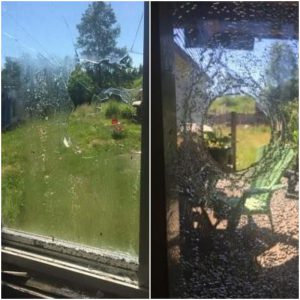 "If everybody keeps their eyes and ears open, then maybe something will come up."
Gregory noted that the financial burden is "fairly substantial", and the family is looking at getting some added security.
"The only other thing I can really think of is to get some spotlights and cameras, and maybe a big, scary dog," she said.
"I'm trying to focus on what we can do and what we can control rather than what we can't, but all of that is gonna come with a pretty hefty price-tag."
In total, Gregory said damage has been done to six of their eight windows, their sliding glass door, a window in her car and three in her partner Geoff's, a 30-gallon fish tank, a 210-gallon fish tank, and a window in her neighbour's trailer.
She added that two of her neighbours, while trying to help find the culprits, have been pelted by rocks and other objects.
"One of my friends blew out his knee while diving for cover when a rock whizzed by us, narrowly missing our heads," she said.
MyComoxValleyNow.com has contacted the Comox Valley RCMP for further comment.