COMOX, B.C. – The colours of tolerance and inclusiveness are now flying high above Comox Town Hall.
A rainbow flag raising ceremony at the hall early Monday morning opened Pride Week in the Comox Valley.
It is the first of five rainbow flags that will be raised locally.
Rainbow flags will fly in five different locations in the Comox Valley. By Tuesday, flags will be raised in Comox, Courtenay, Cumberland, CFB Comox, and at North Island College.
Married couple Laurie Ryckman and Phyllis Katcher joined Comox mayor Paul Ives, Comox councillor Russ Arnott, and North Island/Powell River MP Rachel Blaney at the ceremony. Courtenay-Comox MLA Ronna-Rae Leonard was unable to attend as she was out of the country.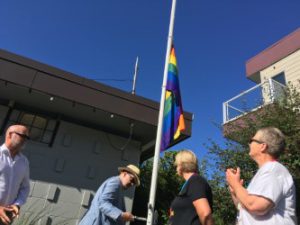 Katcher is the Pride Society of the Comox Valley's acting president, and said these flag raising ceremonies demonstrate that the Comox Valley as a whole is a very accepting community.
"So if anybody comes into the community whether it be Cumberland, Courtenay, or Comox, the raising of the flags, to us, shows that this community itself is accepting and that diversity is all around us," Katcher said.
"We don't get that in a lot of other places so it's been a struggle from Stonewall to be honest."
Katcher said it all started with a protest.
"This is not a protest on our behalf but it actually still is in the essence of, we have a long ways to go. We've seen before there's still bullying. This is a symbol for us that this is a safe place to be."
With the political climate in the U.S. in mind, Katcher said ceremonies such as  these are more important than ever.
"It's showing how open Canada in itself is, to showing that it doesn't matter who you are, whether you are in the LBGTQ community or other… everybody is all one community. So when we no longer have to have pride parades and raising of flags, then we know we all fit in as one society."
Ryckman is originally from "close-closeted" Manitoba and said she found acceptance in the Comox Valley.
"It's so wide open," she said. "The happiness is here for me. It's acceptable in B.C. I think the Valley is very important for the pride society."
Ives said it was an important day for the Town of Comox.
"The colours of the rainbow are important to represent all the diversity that we have in the community," Ives said.
Cumberland Pride
The second rainbow flag raising of the day happened at Cumberland City Hall.
"We still may not have a pride parade or a rainbow crosswalk yet, but I'm proud to represent a village where we can be an inclusive community and make everyone feel welcome," said Cumberland mayor Leslie Baird.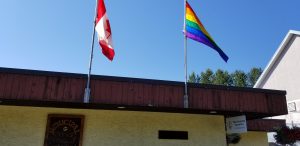 Baird said the Pride movement was founded to fight violence and hate and promote dignity and equal rights for lesbians, gay, bi-sexual, transgender and queer people.
Courtenay 'progressive'
As the rainbow flag flew high outside Courtenay City Hall at lunchtime, City councillor Erik Erikson filled with pride.
"I'm so proud to be part of this," he said. "Our community is so progressive. I'm just so happy to be part of the Comox Valley."
To the residents of Courtenay, Erikson said, "This is our government, on behalf of the citizens this is showing we are proud to be part of this inclusive community."
– Files from Justin Goulet and James Wood