TEXADA ISLAND, B.C – It's been a long road, but Texada Island finally got to welcome a family of refugees this week.
A committee called "Be the rock", coined after Texada's nickname 'the rock', began fundraising three years ago to bring a young refugee couple to the island from Syria. Paperwork for the two stalled their arrival until early last week, when they arrived to Texada. 
Fran Garner, one of the five core members of the committee, said there's been a lot of ups and downs during the process.  
"In the beginning we thought they'd be coming mere months. So we rallied the troops, got everything ready – then we just waited and waited for almost two and half years," she said.
A lot of things changed over those years as well, while they waited for the documents to be completed, the couple they were sponsoring became more than just that.
"We raised money to bring a young couple over, and we were waiting and waiting and then, oh, now there's a baby! Then we waited more and, oh, now there's another baby! So the couple turned into four," said Garner.   
She said when people come together "wonderful things happen". Residents of the island have been donating materials, time and have even been learning to teach English as a second language in support of the new family.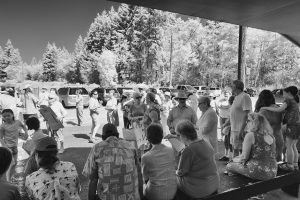 The long awaited arrival was an emotional one, according to Garner.
"When the family started crossing the tarmac, someone started singing "Oh Canada", everyone was so excited and tears," she said.
"It was so Texada."
Garner said she admired the family, and was "thrilled" when they arrived.
"In my mind, the kind of people that have the courage to get out and do all of this, and make a new life, it's outstanding."
"And it's mostly for the kids. It's going to be really tough for the parents for a long time."
"Once the children are in school, they'll just be off. They're already kind of off and running in mere days. Their days are happy. They'll learn english in a second. Their life will be terrific," said Garner.
"The kind of sacrifice and courage it takes to be an immigrant or a refugee, that's the kind of people Canada needs."  
Cover photo: At the Gillies Bay airport: Mariam, Mohamad, Tasneem in pink (20 mos.), and Khalil (9mos.) react to the crowd signing "Oh Canada". Photo courtesy of Rodger Hort.