UPDATE: According to numerous listener reports, the lanes have been reopened but traffic in the area is moving very slowly. Crews have reportedly knocked down the fire.
An exact cause is not known at this time, and there are no reports of injuries as of this publication.
QUALICUM BEACH, B.C. – An accident has shut down the northbound lanes of Highway 19 just north of Nile Creek.
A listener told MyComoxValleyNow.com that a truck or camper was seen on fire, causing a highway backup. He said that the camper and truck were both fully engulfed when the Deep Bay Fire Department arrived on scene.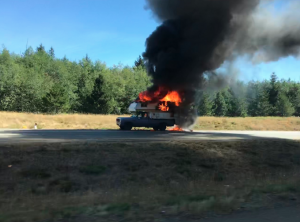 The grass behind the truck caught fire as well, but the flames are reported to have since been contained.
Further details will be added to this report when they become available.
MyComoxValleyNow.com has reached out to the Deep Bay Fire Department for more information.